4TH OF JULY INDEPENDENCE DAY
PUB CRAWL
5 reasons to party with us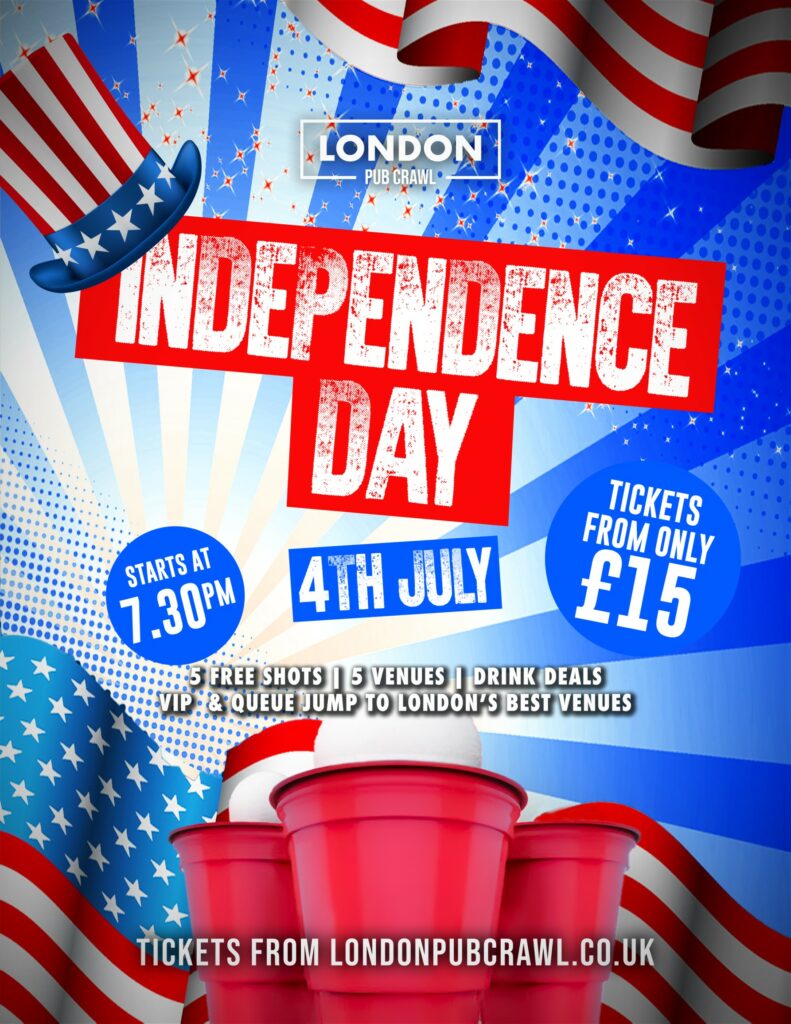 4TH OF JULY INDEPENDENCE DAY
PUB CRAWL
Celebrate Independence Day in style on the 4th of July! Join the London Pub Crawl for an unforgettable evening of patriotic revelry. Embrace the spirit of freedom and enjoy a night filled with red, white, and brew.
Prepare to party like a true American, complete with glowsticks and exclusive drink deals available with your special patriotic wristband. London Pub Crawl takes you to more than five fantastic venues, where you can fully immerse yourself in the land of the free on 4th of July for Independence Day. As you hop from place to place, enjoy a complimentary shot at each venue to enhance your celebratory experience.
In true American fashion, we're taking the pub crawl to new heights. Join us for a massive celebration of the stars and stripes, where the energy and excitement will be unmatched. Just like Uncle Sam, we want YOU to raise a glass and toast to America's birthday by indulging in a night of endless drinks. While Americans across the United States party hard in their own backyards, the festivities here in London will be unparalleled. So come join us and make this Independence Day a truly memorable one!
SHOREDITCH:
The Star in Shoreditch
CAMDEN:
Simmons camden town
SAVE OVER £50+ WITH TEAM LPC
| EXAMPLE SAVING with LPC | PUB CRAWL | REGULAR NIGHT |
| --- | --- | --- |
| | | |
| | | |
| | | |
| | | |
| | | |
Prepare for an unforgettable evening as you join our delightful Our Tour Guides will meet at one of our lively starting points, where the excitement and anticipation of the Independence Day Pub Crawl experience begin. Our Guides will be there, eager to acquaint you with the night's itinerary and introduce you to your newfound pub crawl family for the evening.
As you settle in, savor the thrill of receiving a complimentary shot to kickstart the festivities. Take advantage of our exclusive discounted drink offers, allowing you to indulge in a couple of enjoyable beverages as the night unfolds. This is the perfect moment to break the ice, engage in conversations, and forge connections that will undoubtedly add to the camaraderie of the evening.
The start of the night will adapt to the crowd's energy, ensuring an optimal experience for everyone involved. Our Guides may kick off with some entertaining mingle games, designed to break down barriers and facilitate introductions. Alternatively, they may create a relaxed ambiance, encouraging you to unwind and engage in casual conversations. And in some cases, we'll jump right into the heart of the party, wasting no time in igniting the night's festivities.
Throughout the crawl, our experienced Guides will lead you to four or more carefully selected venues, each chosen to elevate the energy and atmosphere as the night progresses. You can expect each subsequent venue to be bigger, busier, and louder, building up to an exhilarating crescendo where dance floors are conquered and memories are made.
So come prepared to immerse yourself in the vibrant nightlife of the city, as our dedicated hosts ensure an evening filled with laughter, dancing, and unforgettable moments. Join us on this thrilling adventure, where the spirit of celebration comes alive, one venue at a time.
10/10 way of getting to know the area and make new friends along the way! Every venue had something to offer and the host was incredibly hospitable. Big recommend for any traveler trying to check out the social scene!
Have done this bar crawl many times the best in London 🙂 We had such a great time drinks and danced till 2 am, my friends who've just moved to London had a ball 🙂
Best night of my life. I met great new people, went to 5 really great bars and had such as great time.
Overall fun experience and met people from all over the world. Our host (Samara?) was a sweetie and took care of everything. Some of the bars were bit too crowded to fully enjoy the experience but that's fine.